In-House Support
Kahala Brands is structured to deliver on our top priority of franchisee support. We have streamlined the process for franchisees by having all of the franchisor services located in our Scottsdale, AZ headquarters with limited use of outside agencies. This alleviates the need for third party vendors who don't have the knowledge and investment in the brands that Kahala employees do.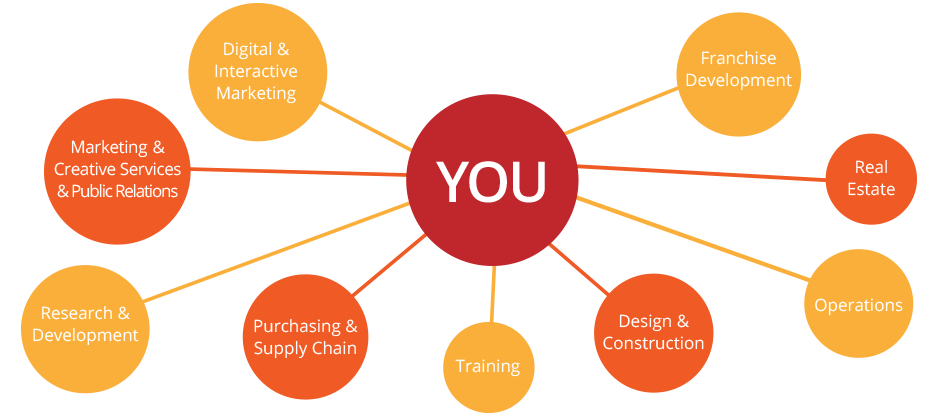 Additionally, we achieve cost-savings for our community by bundling "back of the house" functions, where the entire franchise community benefits from shared teams in purchasing, finance, real estate, business training, IT and human resources to capitalize on economies of scale.
Each brand, however, operates independently when it comes to developing, operating and marketing the individual concepts. A brand leader is at the heart of the business and is equipped with a team of passionate sales, marketing and operations talent to support the brand and its franchisees. This type of support is unique in the franchise industry, and we are proud to invest in this structure to keep the brand passion alive.
At Kahala Brands, we offer extensive in-house support to our franchise community. From site selection, design and construction to marketing, public relations and R&D, we provide extensive, hands-on support throughout the entire ownership experience.
Franchise Development
Kahala Brands' franchise development team brings the confidence that is expected from seasoned professionals. Each Team Member contributes a broad knowledge and experience in the franchise industry. Passion for helping men and women of all walks of life realize the dream of becoming an independent business owner is the driving force behind our commitment.
Real Estate
Our real estate department is available to conduct site selection and lease negotiation services with the confidence of years of experience in the industry. They have cultivated valuable relationships with traditional developers as well as non-traditional real estate organizations.
Back to Top
Design & Construction
The design and construction team has the benefit of the experience that comes from designing thousands of Kahala Brands locations. With typical site layouts and plans, architectural specifications and equipment packages, we are able to streamline the construction planning process. Site-specific adaptations for multi-branding projects are also available.
Back to Top
Training
Training is vital to the operation of any quick service restaurant and at Kahala Brands, the comprehensive classroom training provided at the Kahala Training & Education Center (KTEC) is invaluable. In addition to classroom training, in-store training outlines the operational systems used in each restaurant. 
Back to Top
Operations
Our operations team serves as the primary support to our franchise community. From answering day-to-day question to the execution of promotions, the operation team provides a wealth of knowledge and unending support. 
Back to Top
Purchasing & Supply Chain
The purchasing and distribution team has spent more than two decades developing relationships within the industry, allowing our franchise system to benefit from cost savings and other conveniences.
Back to Top
Research & Development
Our research and development team takes great pride in developing products that meet the ever changing demands of today's consumer. From menu improvements to limited time offerings, the R&D team works tirelessly to keep customers coming back for more. 
Back to Top
Marketing, Creative Services & Public Relations
Marketing is essential to driving customer traffic and creating brand awareness. Our in-house creative department and dedicated marketing team work together to develop traffic-building local and national marketing promotions. Our public relations team works with each brand to develop a PR strategy and increase brand awareness. 
Back to Top
Digital & Interactive Marketing
The interactive team at Kahala Brands works to develop the overall digital strategy for our brands. The team's main areas of focus include website design and development, search engine optimization, paid digital advertising, social media and the development of new technologies utilized for marketing and sales purposes.
Back to Top