Kahala Brands Franchising Press and News Room
Welcome to Kahala Brands' online Press Room. Here you can find the latest news from Kahala Brands including company announcements, brand introductions, video and media resources.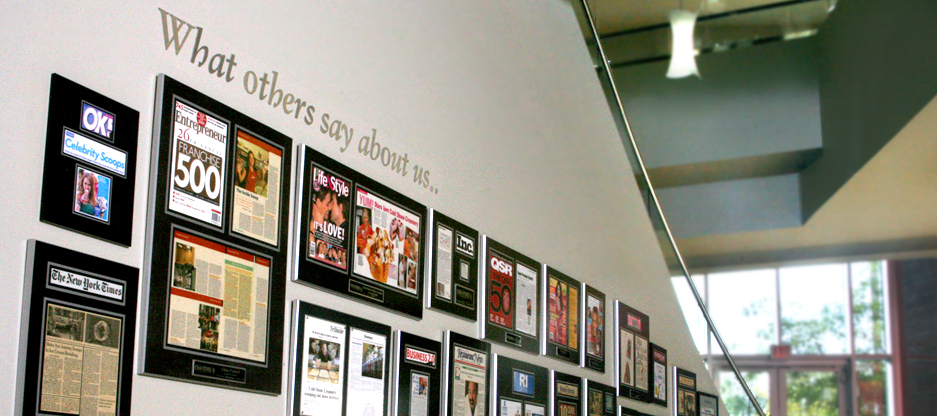 Maui Wowi featured in Association Convention & Facilities Magazine
There's a myriad of things that need to be perfected for any meeting or conference, but time after time, the food and beverage offerings are one of the biggest scorecards kept at any event.
"Meeting planners are constantly being judged by attendees by where they stay and what is being served or what options they have offered," says Phil Aldax, director of food and beverage for the Anaheim Marriott in California. "If you can make something memorable and it creates buzz, attendees are often scoring in a positive (way), which in turn makes meeting planners want to come back."
Current food trends are important for meeting planners to understand so they know what people are looking for and more important, what can create a creative and innovative experience. Successful planners can take the current "in" and then drive the innovation around it to make it memorable.
James Gambardella, director of operations for Doral Arrowwood in Rye Brook, New York, says the food and beverage category is most exciting for meeting attendees when it's interactive — including action stations with chefs preparing and educating, guest involvement, build-your-own entrees,
specialty cocktails with local spirits, and farm-to-table items with explanations on the origin of the local item.
"We are seeing a rise in international-themed food stations with wine pairings to match," he says. "For the wine pairings, it's imperative for the property or venue to provide staff that is knowledgeable to assist at the tasting table so the attendees feel they are taking away knowledge from the experience."
Jana Thompson, owner of On Point Hospitality & Site Selection, an independent planner in Dallas, Texas, says conferences are becoming "foodie fests."
"Most attendees want an experience with their dining. It's more about where the food comes from and what it looks like in the presentation," she says. "It's also about what's going on around them. One example was a dinner while Cirque performers were dangling around you or perhaps a fashion show pairing each course with fashion."
David Grace, a managing agent with the Used Truck Association, recently planned the organization's annual conference at the Paris Hotel in Las Vegas, Nevada. A survey taken after the event showed that the majority of its 850 attendees were impressed with the food and beverage service.
"The facility is staffed with professionals who know how to help you create a fantastic meeting for your guests, and the true test is how they reacted to those unexpected situations that always come up, and they came through with excellence," he says. "Offering food and beverage options that went above and beyond was a big hit with our members."
On The Menu
Michele Polci, director of citywide catering sales for Caesars Entertainment in Las Vegas, says spices and herbs are becoming more of a focus on menus, as they add so much flavor and interest. For example, lavender-infused crème brûlée is a big favorite now.
"Middle Eastern spices such as cardamom and sumac are becoming commonplace," she says. "Hand-held foods are making a splash as well. Fun, colorful foods and textures are playing a role. Planners want to know where their foods are sourced and coming from."
Foods that are popular in 2018 include Moroccan kofta, ramen noodles, hawker pork noodles, agave tequila shredded beef, pickled cabbage, avocado cream, queso fresco, pico de gallo, and ancho cumin crostini.
Purvill Chaney, executive chef for Spectra Food Services and Hospitality at the Duke Energy Convention Center, Cincinnati, Ohio, notes one of the biggest trends for conventions and meetings is the presentation of comfort foods in lighter or healthier ways.
"People want the comfort foods that they know and love but without the heaviness that comes with massive portions," Chaney says. "Our culinary team crafts unique takes on timeless favorites. Pretzel-crusted chicken paired with whipped cauliflower mash and roasted chicken with tomato Brussels sprout salad and quinoa wild rice introduce exceptional flavors that cater to a variety of diners."
Along these lines, farm-to-table foods and locally sourced foods are currently trending in the industry and the concept is growing.
"People want to know where their food is coming from, and they want it to pass through the least amount of channels as possible before it reaches their plate," Chaney says. "This has grown from requests for locally grown fruits and vegetables to locally sourced meats, homemade ingredients and foods, and locally sourced craft beer and spirits. More chefs are embracing farm-to-table, and this concept has become a selling point."
Chefs also are accommodating dietary restrictions in their menus by offering vegan and gluten-free options, for example, and avoiding cooking with ingredients commonly associated with food allergies, such as peanut oil.
John Billings, executive chef and assistant director of food and beverage for Eaglewood Resort & Spa, Itasca, Illinois, describes one current craze as "iconic food," such as favorites from the past. "Today, society is in a rapid growth with technology and the ideology of 'not enough time' in which we often tend to compromise our ability to cook a great meal," he says. "Bringing back iconic foods can re-teach society how much fun cooking can be and establish the feeling of accomplishment from scratch and homemade cookery."
Mike Schugt, president of the Teneo Hospitality Group, Orlando, Florida, notes curated and organic meals that feature bison, elk and other more exotic meats are more frequently being seen in banquets and conferences.
"A big trend is that you are seeing cooking that was typically reserved for tables of four in fine restaurants being done for 4,000 people," he says.
Executive chef Todd Goldian with The National Conference Center in Leesburg, Virginia, says there continues to be a demand for farm-to-table cuisine, but the venue is taking things one step further and going "hyperlocal," working with local farmers to source the food.
"CEA Farms here in Loudoun County produces enough lettuces, tomatoes and greens for us to feed 1,200 people at a time," he says. "We are also using Silcott Springs Farm for all of our ground beef, and we also just started purchasing Italian sausage from Spring House Farms."
Thinking About the Group
One popular group activity is something called "Bar Wars" where groups work together to create, name and build a signature cocktail using local products, then feature the beverage during the dinner.
"We've also seen Iron Chef competitions with traditional dishes or grilling competitions in warmer weather," Gambardella says. "At Doral, we are set on 114 acres so groups like to use the outdoor space when in-season, and the outdoor grilling Iron Chef really took off over the summer months."
Ashleigh Dellinger, a spokesperson for the Mansion on Forsyth Park, Savannah, Georgia, says the venue is seeing requests for additional interactive food and drink demos for breaks and receptions, and not just a typical carving station.
"Interactive demos where the guests have contests with each other for teambuilding, or organizing a pay-it-forward event for food shelters with a culinary demonstration have proven popular," she says. "This is why we built a purposeful demo-kitchen on location to host events and activities. It is a very popular way to fill a 60- to 90-minute time block for a group or conference."
Mark Rome, owner of the Maui Wowi Hawaiian Coffees & Smoothies franchises, takes pride in providing a unique and fun vendor experience and specializes in corporate events and conventions. "I'm currently seeing that smoothie socials have become more mainstream for groups at these events," he says. "Smoothies incorporate the 'better for you' component that is continuously trending in the food and beverage world."
Billings notes that expo kitchens and action stations are kicking "food theater" up a notch or two for groups. "Exhibition kitchens have been around in some form since the invention of brunch. But today, we're talking full-blown food theater, driven by Food TV in all its incarnations and the prevalence of social media outlets that are ideal for everything food and beverage," he says. "Restaurant kitchens today offer a front row seat at a dining performance, and guests are crowding around to take in the aromas, flavors, cooking tips and high energy of the stars of the show — the chefs. It's a visual and sensual spectacle that entertains, nourishes and satisfies everyone in the entire dining room."
Build-your-own stations with toppings also are popular. Examples include a grits station with toppings, customized grilled cheese station, or biscuit bar with several flavors of biscuits and toppings.
Tim Fannin, corporate vice president of food and beverage for The Kessler Collection, has brainstormed with small groups on ways to combine jewelry trunk shows, as well as art exhibits in its galleries, with wine tastings. That is something that groups are taking more of an interest in.
Courtney Skoog, who was conference and meetings coordinator for metroConnections, Bloomington, Minnesota, at the time of the interview, says many organizations are seeing increased demand from attendees to have healthy options at meals and breaks, including an increasing number of attendees who require gluten free, dairy free or other dietary-specific items.
"Recently we had a client bring their attendees to an offsite gym for an early morning group exercise. They needed a light meal, but also something that would fuel them for their workout," she says. "We couldn't send them off with the typical loaded breakfast buffet that usually includes scrambled eggs, sausage links, pancakes, bagels, etc. So, we offered healthy grab-and-go items: hard boiled eggs, individual Greek yogurts, steel cut oats with berries, and whole fruit. We provided the transportation and sent protein and energy bars on the buses, so they could have a post-workout snack for the ride back to the hotel."
Wine and Beer!
Aldax feels that beverage trends are actually outpacing food trends in conventions today. "The beverage evolution is just blowing up constantly and continues to grow," he says. "When a few years ago it was all about fresh juices, now it's truly about how to drive simple creative fresh cocktails."
In Southern California, he adds, it's all about microbreweries and craft beer. "In the convention world, it's about how you can get a great beer in an event setting," Aldax says. "We have worked hard to create a great presentation and overall draft beer in a catering setting. Customers love it, and they can choose from local craft beers."
Gambardella recommends bringing in local breweries to lecture to groups and provide tastings of their beers with some light food pairing and having the head brewmaster onsite is a must. "Similar to breweries, local spirits lectures are also hot," he says. "We have brought in the head spirits-maker to the event, and they stay and answer questions."
Mocktails, Schugt says, also are popular at conferences, as not everyone drinks alcohol, and they want something more than typical soft drinks and coffees. "Today, you are seeing many exotic-crafted cocktails made without alcohol that are very interesting for attendees," he says.
Goldian has seen food and wine/beer dinners becoming quite popular at the National Conference Center, so the venue partners with local vineyards and breweries for the products that it selects for those dinners.
Working Together
Meeting planners would be wise to talk to the facilities hosting the conference or corporate meeting because they are often on the pulse of the latest food and beverage trends.
"I think success comes from planners meeting with our own sales team, onsite planners and including our chef and food and beverage teams to brainstorm unique ways to incorporate some of these upcoming trends along with their mission and keeping it within their budget," Gambardella says. "This could include tastings, preconference meetings and connecting after the meeting to brainstorm ideas for next year."
Besides, getting together beforehand is an opportunity for chefs to be creative and build face-to-face relationships with a planner. "As planners, it's important to know fads versus trends. You always want to make sure you know your attendees and review past surveys about their satisfaction, with the menus you previously selected," Polci says. "At Caesars Entertainment, our menus are a priority and get updated twice a year. We have a very talented chef pool, many award-winning. They are happy to sit down with you, to custom-design menus for your event and prefer this as it assures that menus are unique and well received."
At the Duke Energy Convention Center, the catering sales team works with planners to understand the demographics of the group or event so they can make on-trend suggestions that can also fit the palates of the meeting and convention: "With more than 80 percent of planners choosing to create their own menus, our team helps them to create the exceptional food experience they want to provide for their guests," Chaney says. "Tastings and client events allow us to demonstrate our creativity and bring an understanding of how food is being used in various ways. It also gives planners an idea on what is trending in the industry and how they can present these concepts to their attendees."
Keeping Up
Planners know if they want to satisfy stakeholders and attendees, they have to keep up with what's trending.
"People are demanding, not asking for trendy foods, ideas and concepts," Chaney says. "Knowing food trends helps food and beverage sales mangers offer the best menus and suggestions to planners. Our goal is to create an exciting food experience for guests that matches or amplifies the entire event experience during their time at our venue."
A savvy meeting planner will be reading food magazines, visiting foodie websites and watching the cooking channel to see what the current trends are, but that's just the tip of the iceberg when it comes to what they should be doing. Travel is another factor that is changing people's tastes.

"A planner needs to experience everything through site visits," Aldax says. "If they are excited, it usually creates a small buzz, which in turn creates a bigger buzz when the meeting finally arrives." Schugt says that planners must realize that 2018 brings a "Starbucks mentality," where everyone wants exactly what they want. "Attendees want a certain level of personalization for their banquet experience and planners must deliver it," he says. "If not, it can become the object of social media and an overall group's level of satisfaction. Keeping up with the trends is important to stay one step ahead of what attendees are seeking so that they can be pleasantly surprised."
Polci notes that planners should keep an eye on the major markets like New York City, Los Angeles, Chicago and Las Vegas. "Be curious and try new, exciting options before it becomes overdone," she says. "Experience the newest and hottest restaurants to understand the new hot food trends. Guy Fieri, one of our celebrity chefs, is the host of "Diners, Drive-ins and Dives," which is a great show for ideas. Some of the smaller chef-run restaurants have the trendiest new dishes. They're often menu items that have been around but are presented in a unique way or with a twist."
It's important to remember when planning for a large group that what you have seen and tasted in a restaurant may need some adaptation, so talk with the chef and they will work with you to adapt that menu item. "It's extremely important to keep up because you want to stay relevant to the consumer," Rome says. "Even if flavors stay the same, the desired experience may differ. For example, right now healthier alternatives are trending, meaning customers are more health-conscious. By understanding this, I can direct each customer to the product that is a best fit for them."
Food is one of the most important components when planning a meeting. It weighs heavily when attendees are evaluating their experience, so be sure that it's something that is at the top of your list. AC&F