About Us
At Kahala Brands, we pride ourselves on our family of brands that utilize the highest in quality, fresh ingredients and give our guests a memorable and comfortable in-store experience with the best in customer service.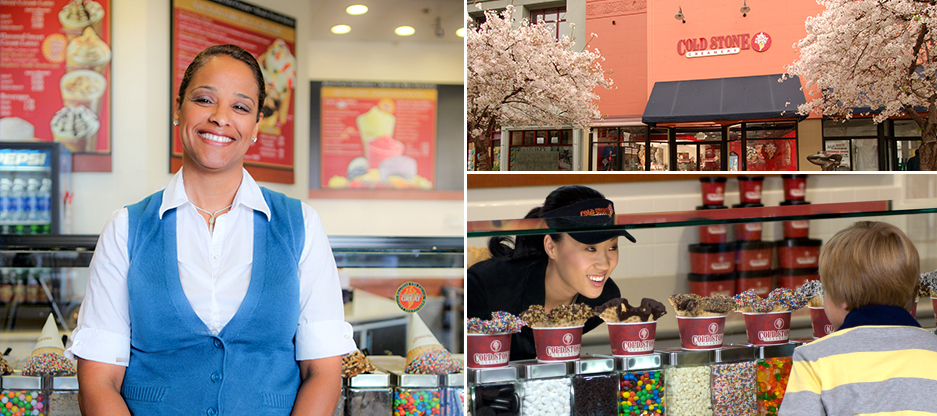 Who We Are
We recognize that in today's marketplace customers want to know where their food is coming from and we share in that philosophy. From Cold Stone Creamery® where the ice cream is made fresh daily in each store to Blimpie® where the premium meats are sliced fresh to order right in front of the customer; each brand consistently delivers a quality product that is unmatched by our competition. No matter which Kahala Brands concept you visit in any of our locations around the world, our dedication to quality and the customer is evident. Compromising on these high standards is never an option from how we do things at the corporate level to the franchisee in his or her local store in communities around the globe.
Our Mission
Our Mission is to create great experiences that make people want more. More? It's not "wanting more" in terms of simple accumulation, but something deeper, broader, more meaningful and resilient, and firmly rooted in service. From our customers to our franchisees to our vendors, key partners and team members, it is the shared experiences with all of our "customers" that shape the future—the "more"—of our relationships and, ultimately, our successes. We remind ourselves of that every day and it guides all of our decisions and actions.
Core Values
At Kahala Brands, we believe that business decisions should be made with the same set of core values that we live our daily lives by. When we follow these basic guidelines, we enjoy the benefits of fulfilling relationships and a strong franchise community. 
We execute our Mission through Values captured by our "BRANDS."
Bold – Responsive – Accountable – Nimble – Disciplined – Service-minded –
Our six Values brand us as a team that reacts quickly and positively to changing opportunities, demonstrates the agility and responsibility that comes from deliberate action, stretches the limits of conventional approaches, and serves the needs of all of our "customers"
Our Vision
Kahala Brands' vision is to be the largest franchise company in the world by being the best franchisor in the industry. Our vision is not rooted in growth. Instead, it is our aspiration to be the best franchisor to our franchise community, and if that remains our top priority, our growth will continue to happen naturally both domestically and internationally through concept development, existing concept growth and future acquisitions.